Let me introduce myself: I am Marte van Santen (1975), allround mixed media illustrator and freelance journalist.
What I offer
Commercial: illustrations for websites, promotional materials, brochures, annual reports, invitations, stationary, greeting cards, packaging, menus, etc.
Editorial: illustrations for articles in magazines and newspapers and on websites.
Children and education: illustrations for children's books, teaching methods, etc.
Personal: animal portraits, illustrations for birth announcements, invitations, greeting cards, etc.
My style
My work is fresh, colorful and lively. I use clear lines and love beautiful, balanced compositions. I like to tell stories, with my written work as well as with my illustrations. If I can add a touch of humor, so much the better.
Watercolour, gouache, ink, ballpoint pens, markers, coloured pencils, crayons, fineliners: I like to combine them a lot. This is how I add texture and depth to my illustrations. And of course those sparkling colours.
A little more about me
A pencil? As a child I knew no better than that was an extension of my hand. No surprise maybe, as my mother was (and is) a successful professional illustrator. We loved nothing better than making beautiful things together. So we did, long before I could even read or write.
When I grew up, people started asking if I could draw as well as my mother. So annoying! No child likes to be constantly compared to a parent. Especially not a teenager. For me, it was reason enough to put my art materials aside. I decided to go my own way and became a journalist.
Then COVID came. All of a sudden, I couldn't go out anymore to visit the galleries, museums and other places where I normally get inspired. Then I'll just have to make some art myself, I thought. Long story short: after my first drawing in October 2020, I never stopped creating. Since then, I illustrate daily, for myself and for others. And just when I was a little girl, I like nothing better. So I'd love to make something for you too!
Curious about my other work, as a journalist, editor and writing teacher? Then have a look at my second website: letterleven.nl.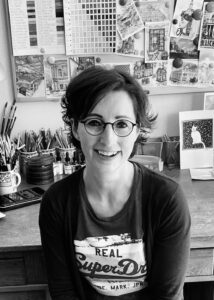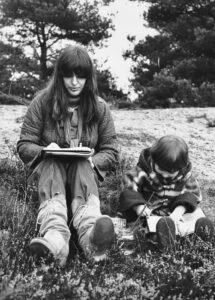 Favourites
Sketching pencil: Palomino Black Wing
Coloured pencils: Caran d'Ache Luminance
Fountain pen: TWSBI Eco Clear
Fountain pen ink: De Atramentis Document Ink black
Fineliners: Sakura Pigma Micron
Markers: Ecoline Brush Pens
Watercolour paint: Daniel Smith
Waterproof ink: Dr. Ph. Martin's Bombay India Ink
Brushes: Silver Brush Black Velvet, Da Vinci Nova, Winsor & Newton Sceptre Gold II
Sketchbooks: Talens, Ohuhu
Watercolor paper: Arches en Fabriano cold pressed (300 gr, 100% katoen)